top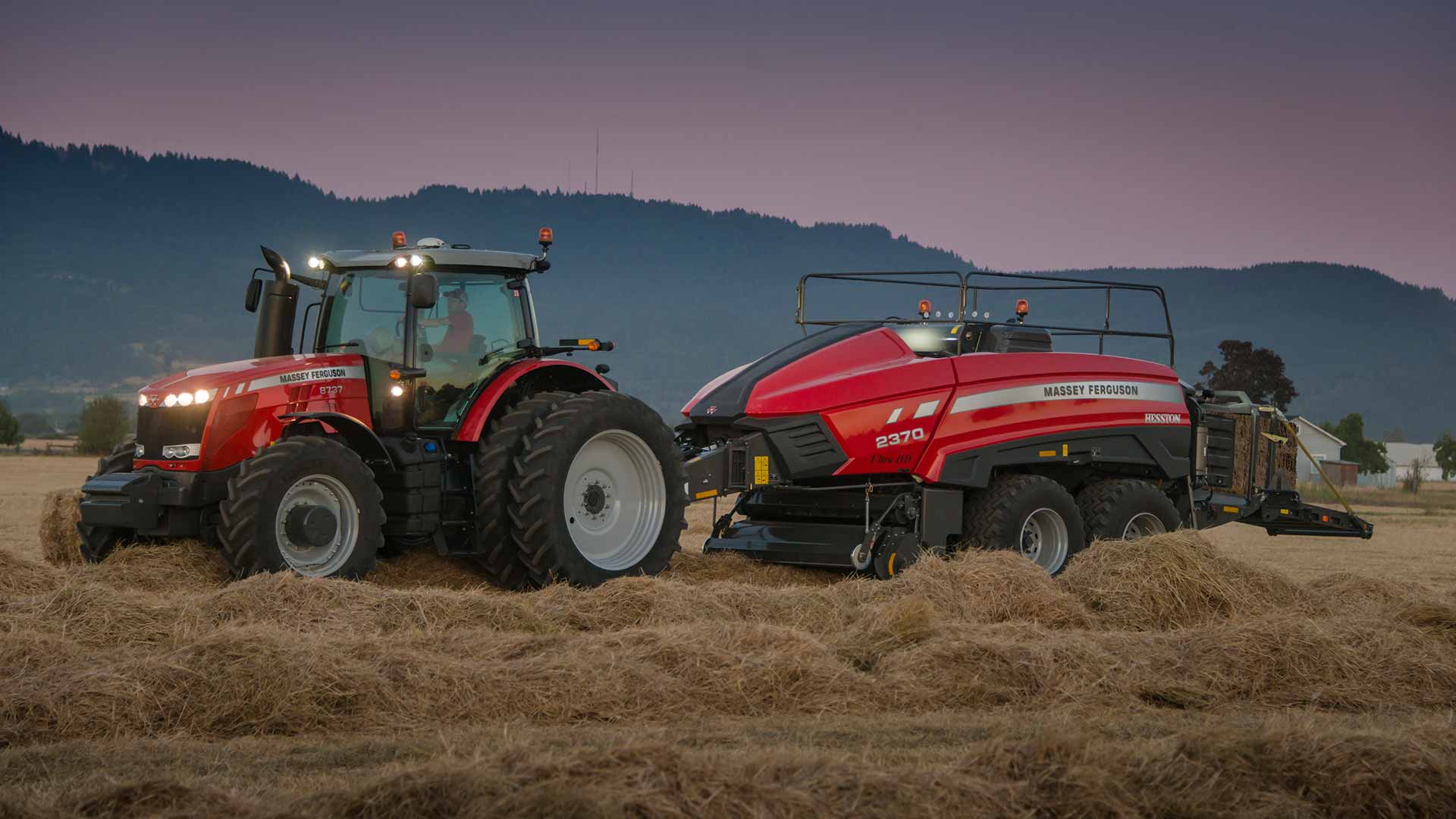 2300 Ultra HD Series Big Square Baler
You're out to produce the heaviest, densest, most consistent square bale possible. And you've just found the baler that will do it: the Hesston by Massey Ferguson® 2370 Ultra HD large square baler, the world's first Class 8 baler.

2370 UHD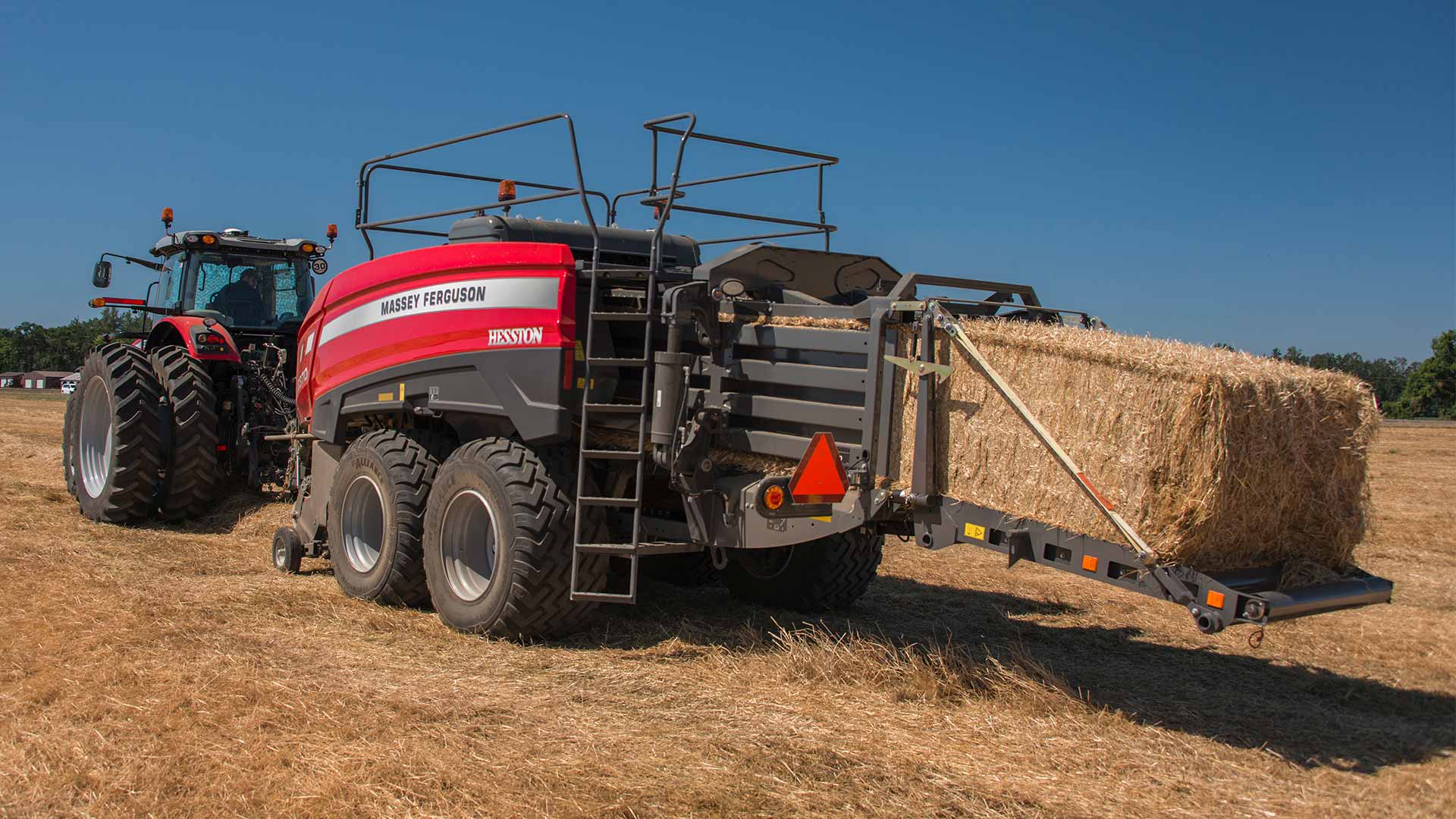 Hesston by Massey Ferguson 2370 Ultra High Density Baler
Introducing the Hesston by Massey Ferguson® 2370 Ultra HD large square baler, the world's first Class 8 baler.
MF 2370 UHD Production Tour
Hesston, Kansas, home of the all new Massey Ferguson 2370 Ultra HD baler. Here we follow production from cutting and welding, through the new $42 million dollar paint plant, into final assembly and testing.
Ultra Capacity. Ultra Dense Bales
Doing more in less time — here's how the Class 8 2370 Ultra HD baler makes it happen:
Improved pickup performance at high speeds thanks to the new Opti-FlowTM pickup with
a five-bar pickup reel.
Consistent crop flow from full-width-powered top auger and new curved, solid wind guard with a large diameter roller.
Enhanced throughput with 14% faster packer crank feeding crop into the pre-compression chamber.
50 strokes per minute plunger that's 6% faster than our XD baler so you speed through more material in less time.
High plunger loads, additional bale chamber length and larger density cylinders create unmatched density, with superior shape and consistency. The result: heavy bales that stack and transport well. Max plunger load of 760 kN from the UltraPressTM plunger applies up to 63% more force to each flake than our XD baler for unsurpassed crop compression. OptiFormTM UltraTM bale chamber with defined bend doors, massive seven-inch density cylinders, and 28-inch longer bale chamber delivers greater density and consistent, square-shouldered bales.
Greater density means more crop in fewer bales. This results in less twine used, less time gathering, stacking and loading bales, fewer truck loads and less storage space needed — plus there's less spoilage and crop loss. For
all these reasons, denser bales translate to lower operating costs and greater profitability.
How It Works: 2370 UHD Animation
Watch this video to see the inner workings of the 2370 UHD baler.
Ultra Reliable. Ultra Serviceable.
Based on legendary Hesston design, the 2370 Ultra HD ramps up durability and performance to produce big, heavy bales all season long. Here's how we build in reliability, and longevity:
• An ultra heavy-duty frame designed to handle high density loads and demanding environments.
• Replaceable wear plates in the bale chamber floor to allow the floor to be replaced when baling extremely abrasive crops.
• Poly-wrappers in the pickup that withstand tough, abrasive crop conditions and
resist impacts.
• Six heavy-duty knotters and larger twine to reduce service points and potential for knot failure.
• Redesigned knotter fan that channels air directly where it needs to go, ensuring optimum knotter performance.
• Self-cleaning lower twine tensioners that route twine upward to automatically shed debris.
Hesston by Massey Ferguson has built its reputation on well-designed, simple, easy-to- service haying equipment — and the 2370 Ultra HD is no exception.
More lifetime sealed bearings, eliminating those hard-to-reach grease zerks.
Convenient ground level access to hydraulic reservoir, fuse box and hydraulic block.
Swing out twine boxes for quick access to components behind them, and for easier cleaning.• Well-lit service areas with lighted sensors
and long-lasting LED lights in all critical areas.